Everyone is aware of the professional life of TV's popular actress Rashmi Desai, but her personal life has come completely open in front of people. Whether it is her first marriage, divorce with Nandish Sandhu or relationship and breakup with Arhaan Khan. His personal life has been in limelight for some time now. Now another weak aspect of her was seen in the latest episode of Bigg Boss 15, where she was seen getting emotional about her first marriage. She disclosed that even today she gets scared thinking about that.
You must remember that when Rashmi appeared in 'Bigg Boss 13', then her boyfriend Arhaan Khan also took entry in the house. But there was an earthquake in Rashmi's life when host Salman Khan told her that Arhaan is already married and has a child. Hearing this Rashmi, the audience was also shocked. After this Rashmi ended her relationship with Arhaan.

Rakhi asked the reason for divorce with Nandish

Now in Bigg Boss 15, there has been a conversation about Rashmi and Nandish Sandhu. Actually, Rakhi Sawant asks Rashmi about the reason for her divorce with Nandish. At first Rashmi refuses to say anything, but then says that she does not want to talk about it. She does not believe in talking about it, as it can affect the life of the other person (Nandish).
Rashmi gave this answer
The actress further said that both of us are in a good place and she does not want things to be disturbed for either of them. He also said that he is not comfortable talking about anything that can have a negative impact on his life. She said, 'If someone is hurt by my words, then I do not do it.' At the same time, Rakhi reacted to this and said, 'Good.. will it be bad?'
Rashmi broke down crying
After this conversation with Rakhi Sawant, Rashmi Desai was seen crying near the pool in the garden area. Meanwhile, Rakhi looked very angry with Rashmi. He also expressed his displeasure with Abhijit Bichukale and Umar Riaz. He said that Rashmi has always been eager to talk about old things from her personal life, but she did not reveal anything about herself. Meanwhile, Umar leaves when Rakhi says, 'Shani hai woh, dedh shani.'
Omar took over
On the other hand, Umar goes to Rashmi to console her. He asks her why she cried and asks her to handle such a situation calmly and with maturity. Just then Rashmi reveals that the topic of her marriage and Nandish still disturbs her. When something related to her comes, she loses her balance and a thought scares her.
This thing hurts the actress
Rashmi says, 'That is one thing that always hurts me. I can't control myself when it comes. I forgot, I was just a little scared when someone reminds me. He also revealed that he is scared of Umar too. She says, 'Then I start getting scared of you. Dont know why.' Umar tries to pacify Rashmi and says that she has confessed about her choice in the show, the rest will go out and see.
You can watch the episodes of 'Bigg Boss 15' on Colors channel at 10.30 pm.
'Bigg Boss' contestants Shilpa Shinde and Ejaz Khan expressed love on Salman Khan's birthday


Bigg Boss 15: Rashmi Desai's dirty fight with Rakhi Sawant, told the actress – false and Nalli


Shahnaz Gill's fans surrounded Asim Riaz, he has given clarification on his tweet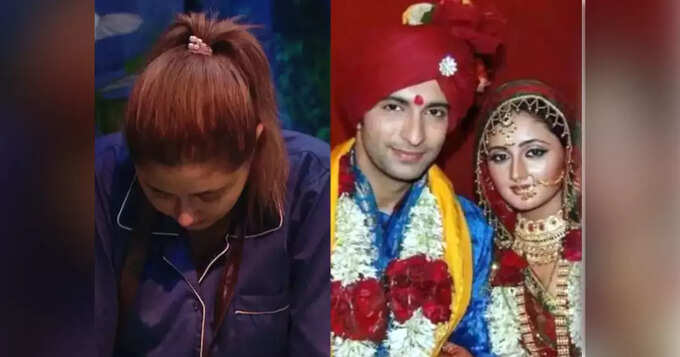 .