Priyanka Chahar Chowdhary has been thrashing about the fact that she always speaks the truth since the beginning in 'Bigg Boss 16'. Always supports the right and stands for the right issues. Because of this, Priyanka was also seen many times 'stripping legs' of other family members. For this behavior, host Salman Khan also put his class many times. But Priyanka looks like this, in reality she is not like this. We are not saying this, but users are saying this. And his such reaction has come after watching a video of Priyanka Chahar Chowdhary, which is going viral.

In this video, what Priyanka Chahar Choudhary is seen saying about her sister has blown the senses of the users. In fact, in this Weekend Ka Vaar of Bigg Boss 16, Priyanka had said in front of Simi Grewal that she has to teach her elder sister's children in a good school. He has to support financially as his sister's financial condition is not right. But a few years ago, Priyanka had said in a news channel show that all her brothers and sisters are in the army and if she was not an actress, she would have been in the army. Users are surprised to see this video of Priyanka Chaudhary. He cannot believe that Priyanka can lie like this about her family and sister.
Where did the ruckus start?
The whole issue actually started from there, when Shiv Thakare touched Sajid Khan's feet. When Sajid Khan was leaving from Bigg Boss 16, Shiv wept and while leaving, he bowed down at Sajid's feet. While fans praised Shiva for this gesture and said that Shiva has got good manners, some fan clubs of Priyanka Chaudhary and some other users started trolling Shiva. He said that now Shiv will definitely get Sajid's film. When the matter went beyond limits, in the meantime a video of Priyanka Chaudhary was shared by a user on Twitter, which exposed Priyanka's lie about the family.
Bigg Boss 16: Strong twist in Bigg Boss 16 to bring Nimrit to the finale! Furious users – give the trophy too
Priyanka Chowdhary exposed!
Two chunks are shown in the video. In a chunk from a few years back, Priyanka is seen saying that had she not been an actor, she would have been in the army like her sisters and brother. Seeing them, one feels how good life is. Whereas in the second chunk, there is footage of 'Bigg Boss 16', in which she is calling her sister financially weak and saying that she has to bear the expenses of sister's children. Seeing this video, the mind of the users has gone crazy.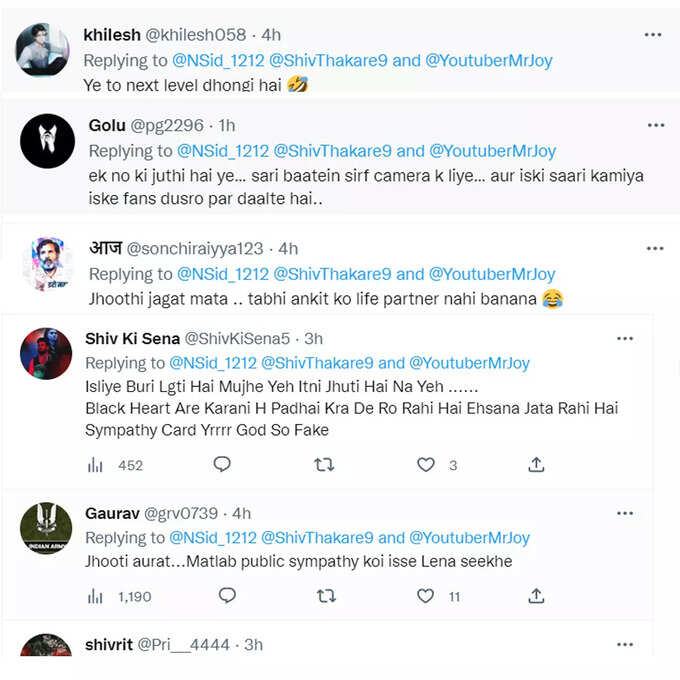 Bigg Boss 16, Jan 16 Promo: Sumbul-Tina's dirty fight between nominations, this comment about Shaleen set fire
Furious users – Priyanka is hypocrite and hypocrite
Now someone is calling Priyanka Chahar Chowdhary a 'dogali' and someone is saying that Priyanka has double standards. A user has commented on this video, 'Priyanka is a liar and that too of this level. Priyanka is degrading herself day by day. Another user commented, 'This is a hypocrite of a different level.'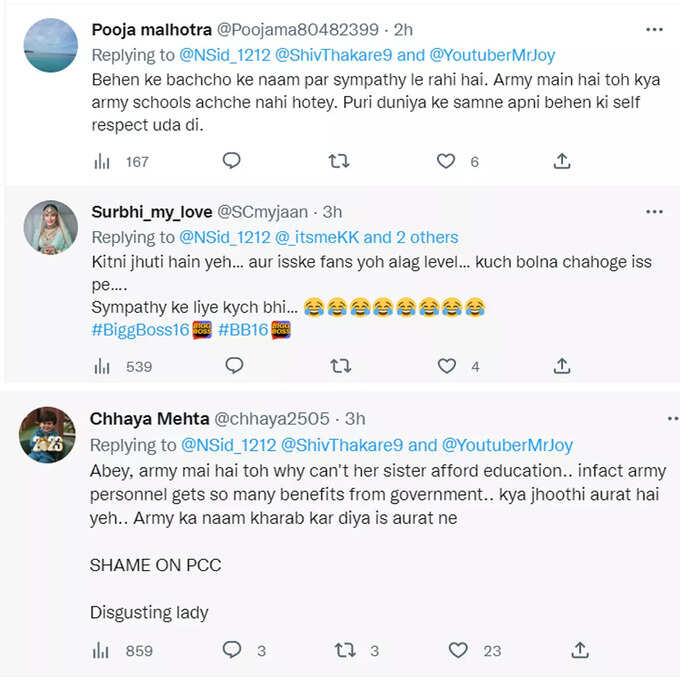 Abdu Rozik: 'I had lost faith in Bro Sajid', Abdu Rozik openly narrated his heart condition after coming out of Bigg Boss
Lost sister's self respect
On the other hand, some users were upset that he threw mud on the sister's self-respect for her game and sympathy on national television. Now it has to be seen what Priyanka Chaudhary will say on this whole issue. It is known that Priyanka has 6 siblings. One of them brother Yogesh also appeared in 'Bigg Boss 16' in Family Week. Now which sister has Priyanka talked about in the viral video, it will be known only when the time comes. But after watching this video, users are getting angry on Priyanka Chaudhary.

Source: navbharattimes.indiatimes.com
: Language Inputs
This post is sourced from newspapers, magazines and third-party websites. For more information please check NewsDay Express Disclaimer.