You must remember Doordarshan's popular serial 'Mahabharat'. About 30 years ago, crowds used to gather at every house, square, street and nook to watch this serial. The show was seen a lot in the lockdown last year as well and was well-liked by today's audience as well. Its characters started being discussed again. On remembering 'Mahabharata', the face of 'Gadadhari Bhima' first comes to mind. This character was played by Praveen Kumar Sobti, who is more than 6 feet tall. He not only achieved success in the acting world, but also in the field of sports, but the financial condition of 76-year-old Praveen, who has traveled this wonderful journey of life, is not good today. They are making their living in some way. He has requested for pension to survive.
Praveen Kumar Sobti had no match even in the field of play. Praveen, who has won many gold, silver medals in Olympics, then Asian, Commonwealth twice, was awarded the highest sport's award 'Arjun Award' in 1967. 'Bheem', who has made a successful journey from the pinnacle of sports to film glamor, is facing financial difficulties at this stage of age.

Praveen has been at home for a long time
Praveen Kumar Sobti told that Corona exposed all the relationships. All relationships are hollow. If you give support in this difficult time, then you also run away from yourself. He said, 'I have turned 76. I have been at home for a long time. He is not feeling well. There are many types of abstinence in eating too. There is a spinal problem. Wife Veena takes care of the house. One daughter is married in Mumbai. Everyone knew Bhima at that time, but now everyone has forgotten.
waving the flag in the playground
Praveena Kumar Sobti hails from a village called Sarhali near Amritsar, Punjab. He was born on 6 September 1946. Since childhood, when a heavy diet of milk, curd and desi ghee was received from the mother's hand, then the body also became heavy. The mill in which his mother used to grind grain, Praveen used to do it only by lifting it. When the headmaster saw his body in the school, he started sending him to the games. He started winning every event. The name came for the discus throw for the 1966 Commonwealth Games. The games were held in Kingston, Jamaica. Won silver medal. The Asian Games of 1966 and 1970, which took place in Bangkok. He returned after winning the gold medal both times. I had an Asian Games record in throwing discus at a distance of 56.76 meters. After this, the next Asian Games were held in 1974 in Tehran, Iran, where he got the silver medal. Career was going perfectly, then suddenly there was a complaint of pain in the back.
Horrible terrorist attack in Olympics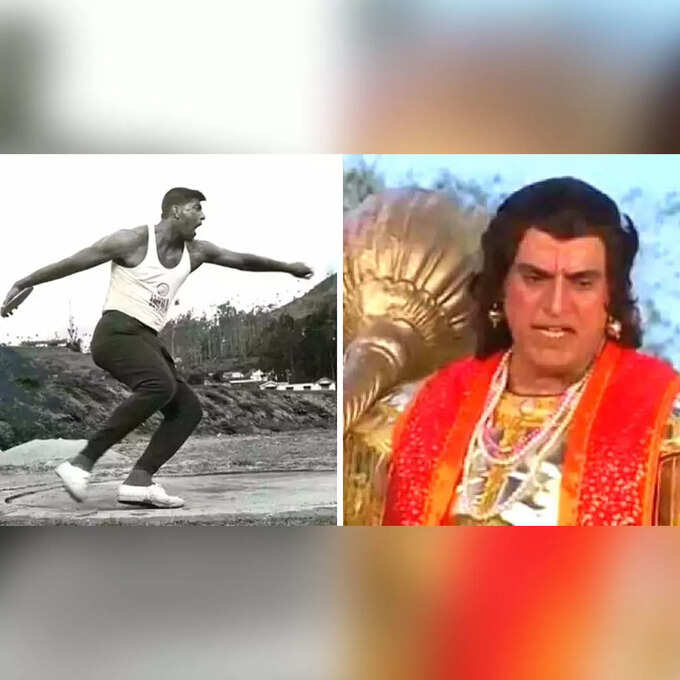 Praveen Kumar said, 'When the Olympics were being held in Munich city of Germany in the year 1972, I also came to participate. These are the same Olympics, in which a Palestinian terrorist organization took hostage and killed 11 players of the Israeli group who came to participate in the Olympics. This was the most frightening face in the history of sports. I was in the same sports complex. When going to the dining area for breakfast. Gunshots were heard. After some time it came to know that the terrorists had killed the hockey team. This is an unforgettable incident for me.
This was the reaction of BR Chopra on seeing Praveen
Praveen Kumar told that he had also got the job of Deputy Commandant in BSF. The Asian Games and Olympics had become such a name that one day in 1986, a message was received that BR Chopra was making Mahabharata and he wanted to play Bhima. Met them. On seeing it said Bhima was found. From here another path to height opened. The character of Bhima became so popular that Bollywood films also started getting it. Got roles in more than 50 films. At that time got the role of Sabu in the popular TV series Chacha Chaudhary.
The actor has this complaint
The actor says that all the governments of Punjab came. He has complaints from everyone. All the players who won the Asian Games or medals were given pension, but they were denied, while the most won gold medals. He was the only athlete to represent the Commonwealth. Still, he was treated step-motherly in the matter of pension. Right now, the expenditure is going on from the pension being received from BSF.
The secret about love was also opened
The actor has also opened the secret about his love. He told that there was a girl in school time. He had an intimate attachment to her, but he was careless about her, as his focus was on sports. For a long time, the two did not know each other, nor did they know their whereabouts. Later it was found that the girl's house is in the village 4 km away from their house. One day the letter arrived. It was written, I want to meet, I come to you, but I can not muster courage. After that they met from afar. Whenever he used to go out in games, he used to bring many types of gifts. The communication was done by letter only. Then Praveen got married. After about a year and a half, a letter and a big box parcel arrived. When he opened it, he had all the gifts that he had once brought to that girl. He had written in the last letter, 'I am also married, now you do not need to write a letter, take care of yourself.' After that the two never met.


Firoz Khan had said abusive words to Jaya Bachchan? 'Arjun' of Mahabharata told the whole truth


Govinda was to become 'Abhimanyu' of 'Mahabharata' before appearing in films, but because of this the offer was turned down
.