Congress leader Navjot Singh Sidhu has resigned from the post of Punjab Congress Chief. Sidhu resigned but don't know why Archana Puran Singh, who is currently seen as a judge in The Kapil Sharma Show, is doing it. You must have seen many times in this show that Kapil Sharma and his team tease Archana in the name of Sidhu and Archana also gets a very funny reaction to the jokes related to Sidhu. Now you see for yourself that Sidhu has resigned here and Archana Puran Singh is trending on social media. In fact, whether the chair is of politics or of The Kapil Sharma Show, people on social media said that after the resignation of Sidhu on the chair in The Kapil Sharma Show, people threatened. After Sidhu's resignation, many memes about Archana are becoming viral on social media.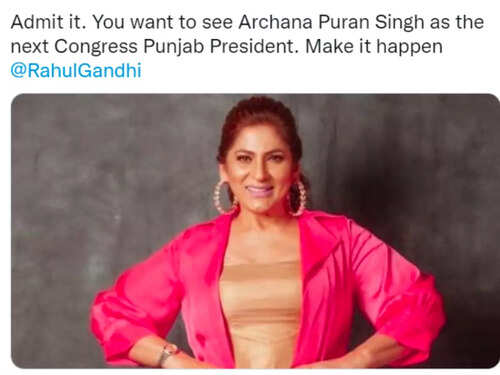 Now reacting to these memes, Archana said that – I saw many tweets. I have retweeted most of those tweets. The memes are quite funny. People are showing their creativity. I am very happy that Indians have such a good sense of humour. Politics, cricket and entertainment have always been related to each other. These three things are a wonderful combination. Navjot Singh Sidhu and in my case there is politics, cricket and entertainment too. So how can people not laugh at this accident. I laughed a lot. I'm having fun too. Navjot Singh Sidhu resigned there in Punjab and here Kapil Sharma Show and Archana Puran Singh are trending across the country. This is fun.
Kher, Archana Puran Singh have already given statements about their chair. Archana had said that – Brother, who says that my chair is in danger. Rather I would say, the chair which Navjot has left there, that chair should be in danger from me. Anyway I am infamous for occupying chairs, so the fear should be not me but them, maybe I can have my eyes on that chair now. I am taking this as a fun too. I would just like to say that it is very funny and awesome. I do not know in which chair my name and Navjot's name have been added. Which is not breaking. I have held my chair firmly.
The post Know why TKSS judge Archana Purna Singh came in trend after Navjot Singh Sidhu's resignation appeared first on DNP INDIA HINDI.