Kapil Sharma keeps on spreading praises by bringing smiles on the faces of people with his humourous style. At the same time, he is also seen helping others. In such a situation, once again PETA i.e. People for the Ethical Treatment of Animals has thanked him for a help. Although this is not the first time that PETA is saying thank you to him. There have been many occasions in the past, when his work was praised.
Actually, PETA shared a post on its Twitter handle and wrote a note, 'Kapil Sharma Thank you once again for helping Hathi Sundar. We have a good news about the second elephant. Following the efforts of PETA India, the country's 'slimest elephant' Lakshmi has been cleared by the court to save her from abuse.' Kapil also answers on this. He writes, 'This is great news. We are proud of you guys. May God keep blessing you like this.

who is beautiful
Let us inform that in the year 2007, when he was just a child, Hathi Sundar was given to a temple in Kolhapur. There he was kept chained to his feet. He was treated badly. Sundar's handler used to beat him with sticks. When PETA India came to know about her plight, it was revealed that Sundar suffered an eye injury, a hole in the ear and bruises all over his body. After this, a campaign was launched for the release of Sundar. PETA demanded that Sundar be released in the forest but his handler refused to do so. In 2013, a video of Sundar being brutally thrashed also surfaced, after which the people of the country and abroad asked him to be released in the forest. The matter also went to court, where a fight was fought to save him. And finally on June 5, 2014, Sundar was brought to the Bannerghatta Biological Park, where he was looked after. He was treated.
Last year also, there were cases of animal misbehavior in Kerala. They were killed by putting firecrackers in the mouth of an elephant, and sometimes such cruelty was done to cows and dogs. In such a situation, Kapil started a petition on Change.org named 'Justice for our Voiceless Soul'. By tweeting, he had tagged the Ministry of Law and Justice and appealed to his fans to sign the petition.
Please tell that Kapil had appealed to the people to adopt homeless dogs. He also worked on it. In view of this dedication, Kapil was honored with PETA's 'Person of the Year Award' in 2015. He then said that he was happy that he was being recognized for helping animals. 'I like to make people laugh but we all should know that dog and cat homelessness is no laughing matter.' According to the information, Kapil himself had adopted a dog named Zanjeer.
In 2013 too, Kapil saved the dog kids from the sets of 'Comedy Nights With Kapil' after the set caught on fire. Confirming the news, Sachin Bangera of PETA India tweeted, "These puppies rescued by Kapil Sharma on the sets of Comedy Nights with Kapil are now safe. Thanks on behalf of PETA."
Kapil Sharma made fun of 'Jersey', said – then the name of Shahid's film would have been Banyan

Nora Fatehi dances with Kapil and Terence Lewis on 'Dance Meri Rani', the condition of the fans is bad!

Jr NTR and Ram Charan Teja dance on 'Nacho Nacho' in 'The Kapil Sharma Show'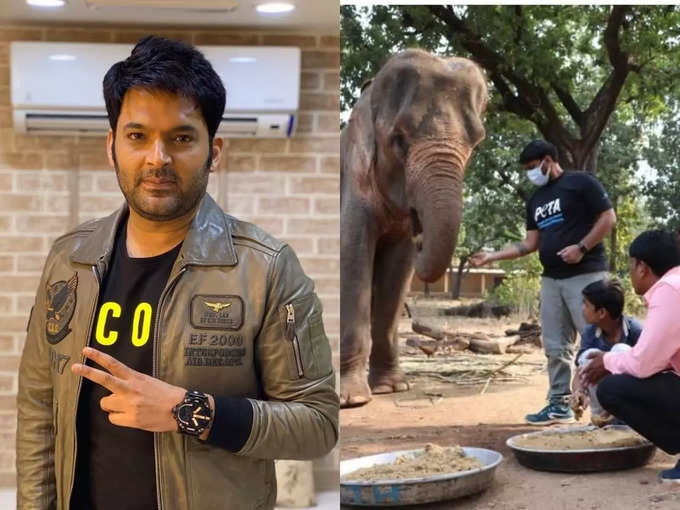 .