Today (28 September) is the last day of Ganesh Utsav i.e. Anant Chaturdashi. After the puja, the idols of Lord Ganesha will be immersed. There are two auspicious times in the day for this. The first time of departure of Lord Ganapati will be from 12 noon to 3 pm. The last Muhurta will be from 4.30 to 6 pm. It would be better if the immersion is done in the afternoon, because midday i.e. afternoon is the best time to immerse the Ganesh idol. If for some reason you are not able to immerse the idol during the day, then do not do it after sunset, do it on an auspicious Choghadiya the next morning.
Do immersion at home, not in river or pond.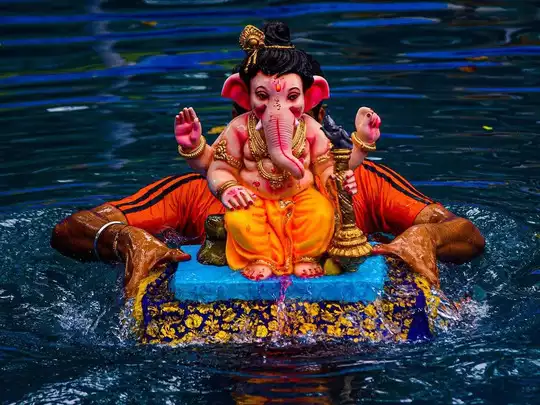 Putting idols and garlands and flowers in rivers and ponds brings blame, hence the immersion of Lord Ganesha's idol should be done at home only. Nature also gets harmed when rivers and ponds become dirty. In this regard, it is written in Skadpuran, 'Those who pollute the water of rivers, ponds or wells are considered guilty of the sin of Brahmahatya. Therefore, one should avoid throwing garbage in water, bathing with soap and throwing idols and garlands and flowers.
It is written in the Ganesh number, 'This universe and our body are made of five elements. These five elements are- earth, sky, fire, air and water. Among them, Lord Ganesha is the lord of water element. Our body consists of 75 percent water. For this reason also, Lord Ganesha is worshiped first among all the gods and goddesses. Along with Ganesha, water is also worshipable. Dirtying the water disrespects Lord Ganesha. Therefore, water should be saved and its purity should be maintained.
According to Ujjain's astrologer Pt. Manish Sharma, immersion of Ganpati ji never happens. After completion of the puja, we pray to God that Lord Ganesha always resides in our house along with Riddhi-Siddhi. On Anant Chaturdashi, do not send Lord Ganesha away from your home, rather immerse the idol at home, so that God always remains in our home.
Source: dainikbhaskarup.com
: Language Inputs
This post is sourced from newspapers, magazines and third-party websites. For more information please check NewsDay Express Disclaimer.