At this time, SS Rajamouli and his film 'RRR' are ringing all over the world. The film not only made records of earnings on its release, it has also dominated by winning international awards. Recently 'RRR' won the Golden Globe Award for the song 'Naatu Naatu' and now it is in the Oscar race. Happy with this victory of Rajamouli, director Ram Gopal Varma praised him, but jokingly gave him 'death threats'. Ramgopal Varma asked Rajamouli to increase his security and claimed that he was part of a group of film producers who, out of frustration, decided to kill Rajamouli.

This tweet by Ram Gopal Varma has created an uproar on social media. Ram Gopal Varma also told that he made this tweet after drinking 4 drinks. That is, there is a state of intoxication. People are surprised at this action of Ram Gopal Varma. Recently a video was shared by the Twitter handle of RRR Movie, in which Hollywood director James Cameron is seen asking SS Rajamouli to let him know whenever he wants to make a film here. Ram Gopal Varma shared this video on his Twitter handle and praised Rajamouli.

RRR Oscar 2023: Junior NTR may get Best Actor Award at Oscars, American magazine predicts
Ramgopal Varma praised Rajamouli
Ramgopal Varma said that from Dadasaheb Phalke till now, no one in the history of Indian cinema would have thought that any Indian director would ever witness this moment. Even SS Rajamouli himself would not have thought of this.

NT Rama Rao: NT Rama Rao was the 'Messiah' of the world of cinema, made a world record by walking 40 thousand kilometers
'Between K Asif to Bhansali'
In another tweet, Ram Gopal Varma said that he wanted to suck Rajamouli's little finger. He wrote, 'SS Rajamouli you have defeated every Indian filmmaker. From 'Mughal-Azam' maker K Asif to 'Sholay' maker Ramesh Sippy, Aditya Chopra, Karan Johar and Bhansali have been beaten. That's why I want to suck your little finger.'

'Rajamouli increase your security'
But after this Ram Gopal Varma did a shocking tweet. Ramgopal Varma said that he is part of a group of Indian filmmakers who have formed a group against Rajamouli and want to kill him. According to Ramgopal Varma, he is telling this secret in a state of intoxication. He tweeted, 'SS Rajamouli sir please increase your security because there is a group of filmmakers in India who have formed a group against you out of irritation and jealousy and want to kill you. I am also a part of this group. I am telling this secret because I have consumed 4 drinks.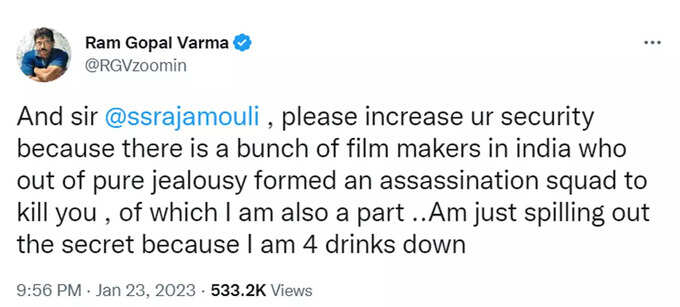 Discussion of RRR at Oscars
Ramgopal Varma may have made this tweet jokingly and in a drunken state, but it has created quite a stir among the fans. Now it will be interesting to see how SS Rajamouli will react to this tweet of Ram Gopal Varma. Talk about the Oscar nomination of 'RRR', its song 'Naatu Naatu' was shortlisted for the Best Original Song category of the Oscars. Oscar nominations will be announced on January 24. RRR was released in the year 2022 on March 24. The Ram Charan and Jr NTR starrer grossed over 1200 crores at the box office.

Source: navbharattimes.indiatimes.com
: Language Inputs
This post is sourced from newspapers, magazines and third-party websites. For more information please check NewsDay Express Disclaimer.