Harnaaz Sandhu has won the title of Miss Universe 2021. After 20 years, India has once again won the field of 'Miss Universe'. Where the whole country is celebrating his victory. At the same time, Upasana Singh, the aunt of the show 'The Kapil Sharma Show', is narrating the stories of her relationship with Harnaaz Sandhu. In a special conversation with Aaj Tak, Upasana Singh told that Harnaaz Sandhu had made Rajma rice for her before going to take the crown of Miss Universe.
Actually, Upasana Singh has been handling the production work for some time now. Because of this she is very busy. Right now she is also an active producer in the Punjabi film industry and has also made two films. Moreover, she is also going to launch her son Nanak from the next film in which Harnaaz is the lead actress. In the phono interview, she told that Harnaz was living with her before leaving for Israel. Sometimes she has even cooked food. And while on the way, he fed the worship by making Rajma rice. Upasana further told that when Harnaaz was living with her, she used to say many times, 'I am going, I will come only with the crown of Miss Universe.'

Chandigarh's Harnaaz Sandhu became Miss Universe, after Sushmita Sen and Lara Dutta beat beauties from 80 countries
What happened on the phone?
Expressing happiness over Harnaaz becoming Miss Universe, Upasana says, 'She proved it. I am very happy that the one who brought laurels to our country is a part of my film. Praising Harnaaz, Upasana said, 'She used to call me God Mother. When I had called him after he won, he shouted and said that I have fulfilled my promise. I got emotional after talking to him. Whenever she came to Mumbai, she would stay with me.
Upasana Singh narrated what happened during Harnaaz's training. Said, 'When her training started after Miss India, even before that she stayed with us for five days. On the phone, he has said that whenever Mumbai comes, it will come to my house first.

Miss universe 2021: Harnaaz Sandhu screams 'Chak De Phatte' after victory, Priyanka Chopra showers love
How did you get Harnaaz?
Upasana told that the name of the film in which she is going to launch her son is 'Baiji Kuttan'. The hero was decided for the film, but I went to Chandigarh to look for an actress. Some auditions took place there. Here Harnaaz also came with her mother. Now we also wanted a fresh face. I liked that girl at first sight. Then I gave acting classes to both my son and Harnaaz. Trained.
Upasana says that Harnaaz has all the potential, so she has also taken him as a lead role in her second film 'Yaara Diyan Paun Barah'. Both these films will release next year. Let us tell you that apart from his gorgeous look, Sandhu is a nature lover. Harnaaz has also won the hearts of the judges panel of Miss Diva with her views on global warming and conservation of nature.
Miss Universe Harnaaz Sandhu: After Lara Dutta, Harnaaz became the cosmic beauty, know what the 2021 Miss Universe does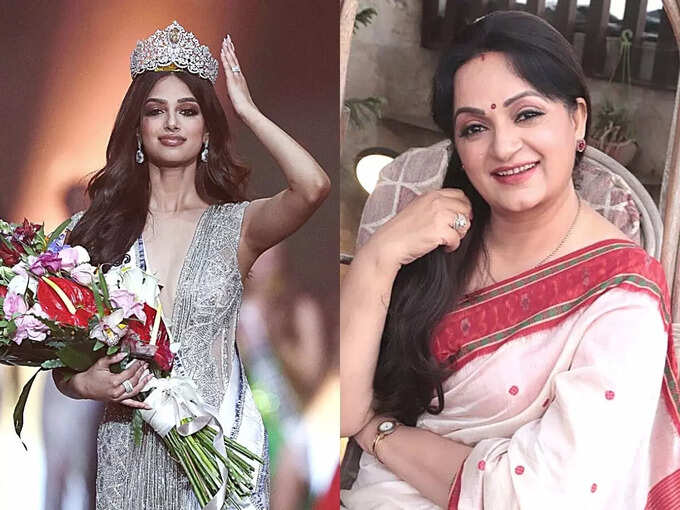 .