There is a finale of Bigg Boss 15 Finale in two weeks. In such a situation, the family members should try their every trick in the Ticket to Finale Task so that they can become the finalists directly. But even after coming so close to this stage, they are not taking the name of improvement. They are bent on canceling every task on one pretext or the other. Now in such a situation, a task happened today, which the family members left no stone unturned to cancel. But this time Bigg Boss did not spare him and gave a shocking news.
Actually, according to the promo of Big Ball (Bigg Boss 15 Promo), today there will be a task in the house called BB Gift Shop. There are four groups in this. All the two families together will make more and more gifts and sell them at the shop. A shopkeeper will be fixed from time to time, who will check the goods made by the family members. If he likes, he will give points and those who do not come, he will reject them. Now the family members are seen making a strategy for this task. First Rashmi Desai, Umar Riaz and Bichukale talk about whether to play for others or for themselves. To this Bichukale says that the game is in his hands as he is the first owner of the shop. On the other hand, Tejashwi tells Karan that she will make gifts, but will not accept anyone.

Task starts. Many small and big boxes come, which the householders pack them in white colored paper. Then placing it in the shopping trolley, the shopkeeper takes it to Bichukale. Where he says, 'I reject all this.' On hearing this, Shamita Shetty, Nishant Bhatt and Devoleena look happy. Karan Kundra hugs Bichukale. Then all the family members are seen in the living area. Reprimanding them there, Bigg Boss says, 'The way you all have decided to cancel the work, so Bigg Boss stops this work here. Even though the work will be done tomorrow, you will not be able to cancel that work. On hearing these things, all the family members get shocked.
Devoleena called Bichukale a dog
Now the reason why this happened is not yet known, but Devoleena Bhattacharjee calls the bichukale lying in the bedroom area a 'dog'. In anger, she is seen saying, 'Humans have not passed even than dogs and you are non-passed.' On this, Bichukle explains to them that they should talk properly. But Devoleena did not know what was getting angry and Abhijeet was constantly being abused. On this, Bichukale also lost his temper and threw some item in the kitchen area, seeing which the family members were surprised.
Now the anger of both Bigg Boss and Devoleena will be cleared only after watching today's episode.
BB15: First Tejashwi Prakash and now Umar Riaz had a fight with Karan Kundra, Rashmi Desai became the reason

Salman used to follow Rekha with a bicycle, told the family – if I grow up, I will marry this girl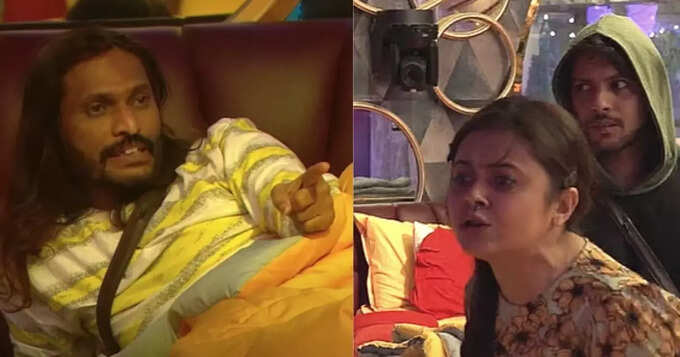 .