UCO Bank: UCO Bank is a big public bank in the banking sector of the country. UCO Bank has a large network of more than 3100 branches and 2300 ATMs. The headquarters of UCO Bank is in Kolkata. Most of the branches of this bank are in the eastern part of the country. For your information, let us tell you that UCO Bank offers a wide range of banking products and services including personal banking, corporate banking and treasury services.
In such a situation, the most important thing here is that the share price of UCO Bank was only Rs 12 per share in October 2022, which increased to Rs 40 per share in October 2023. In such a situation, this share has become a good option for investors. To know why you can consider investing in this stock, you will have to read this news completely.
See the weekly chart. It was a great year for investors.
Let's take a look at its weekly chart. In just one year this bank has given excellent returns of more than 200 percent.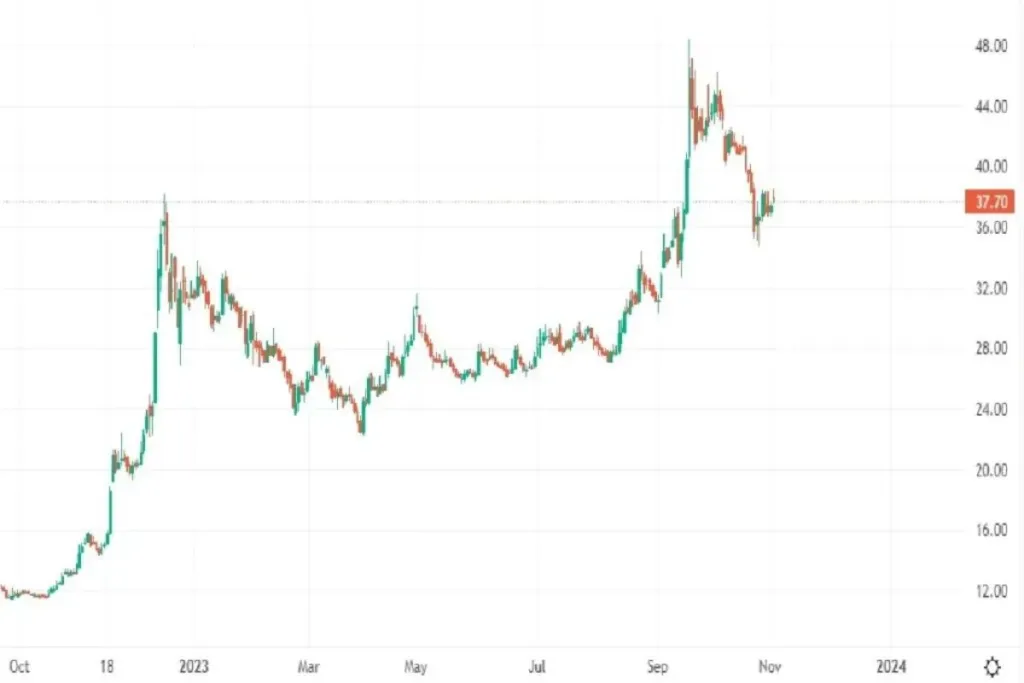 This impressive performance is driven by several factors, including-
improving financial performance
government assistance
growing indian economy
Government aid and Indian economy
One of the key factors in the success of UCO Bank is its close coordination with government initiatives and support. As the Indian economy is poised to become the third largest economy in the world, the banking sector plays an important role. UCO Bank, with its strong fundamentals and strategic positioning, is poised to benefit from and contribute to this growth.
Financial strength of UCO Bank
At the same time, the financial performance of UCO Bank in the first quarter of the financial year 2023-2024 has not been very impressive. The bank reported a staggering 81 per cent rise in net profit to Rs 223.48 crore. Net interest income increased by 21.78 per cent to Rs 2008.80 crore in Q1FY24 compared to Rs 2008.80 crore in Q1FY24.
1649.54 crore in Q1FY23. Net interest margin also saw significant improvement, reaching 2.86 per cent from 2.74 per cent last year, an increase of 12 basis points. An impressive achievement is the decline in the bank's gross non-performing assets from 7.42 per cent to 4.48 per cent in the June quarter of the current financial year. This reduction reflects prudent management and risk control, which enhances the bank's stability and attractiveness to investors.
This is additional information
UCO Bank has advances and investments in various industries. Top risk industries include-
Infrastructure (22%)
NBFC (20%)
Base Metal (12%)
Construction (4%)
Food Processing (4%)
Fabric (3%)
Engineering (7%)
Government support to the banking sector, huge growth of UCO Bank and all these factors make it a good option for investors looking for opportunities in the Indian economy. However, due diligence and personal financial goals should guide investment decisions.
Disclaimer: This information is provided for informational purposes only. It is important to note that investing in the market or any business idea involves market risks. Before investing money as an investor/owner/partner, always consult an expert. DNP News Network Private Limited never advises to invest money on stocks or any specific business idea. We will not be liable for any financial loss.
Subscribe to our YouTube Channel 'DNP INDIA' now for all the news of the country and the world. You can also follow us on FACEBOOK, INSTAGRAM and TWITTER.
Source: www.dnpindiahindi.in
: Language Inputs
This post is sourced from newspapers, magazines and third-party websites. For more information please check NewsDay Express Disclaimer.