Delhi News: The pollution level in the capital Delhi is increasing rapidly. With the onset of morning, a layer of fog is visible all around. Due to poisonous winds, people are having difficulty in breathing and are facing many other problems. According to aqicn.org, a site which provides air quality index data, the air quality index in Srinivaspuri has been recorded at 604, which is much more than the serious level of pollution. Amidst this increasing pollution, the biggest challenge facing people is how to avoid it. In such a situation, we will tell you some solutions so that you can avoid serious problems like pollution.
AQI crossed 600 in Srinivaspuri
According to the site aqicn.org which provides air quality index data, the air quality index in Srinivaspuri has been recorded at 604. This figure of Air Quality Index is very dangerous for the people. Due to this, people may have to face many types of problems. Along with breathing difficulties, there are many other problems.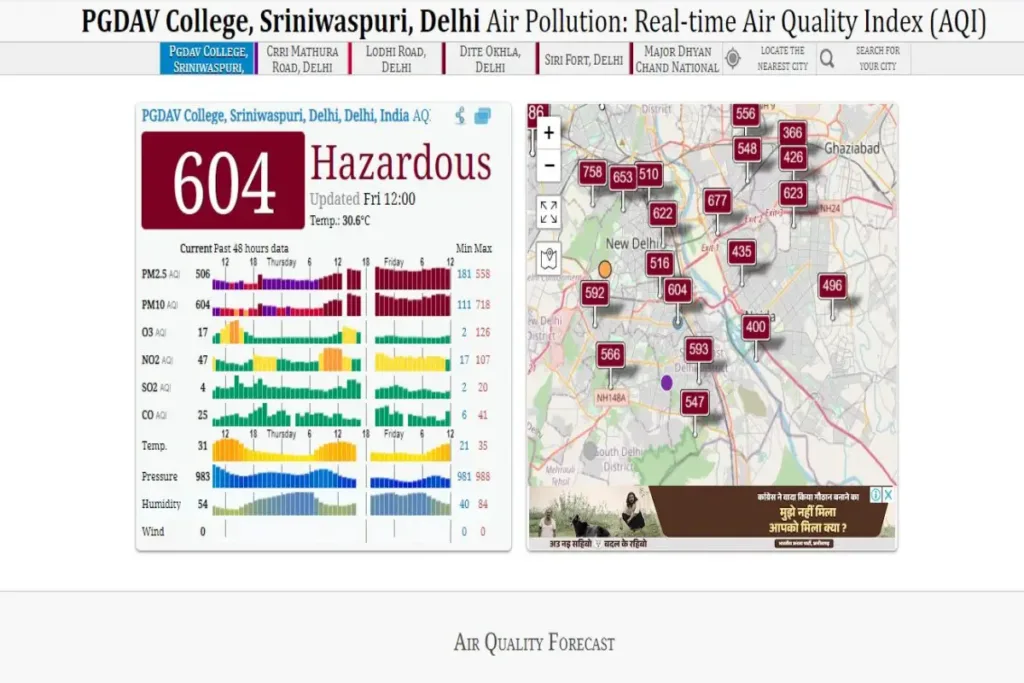 Ways to avoid pollution
The capital Delhi is in the grip of severe pollution these days. In such a situation, the biggest challenge before the people is how to deal with it. We will tell you some things by following which you can avoid pollution.
To avoid pollution, wear a mask before leaving the house.
To avoid pollution, do not go for walks. Apart from this, use public vehicles as much as possible.
Do not allow elders and children of the house to go out. Its effect can be seen rapidly on the elderly and children.
Pay special attention to food and water and use as much fresh and green vegetables as possible.
In case of sore throat, drink lukewarm water and also keep taking steam continuously so that the effect of pollution can be reduced.
Doing yoga also strengthens the immune system, which can protect people from falling prey to pollution.
Apart from staying at home, it is also important that people wear clean clothes and also keep their hands clean so that pollution can be avoided.
Subscribe to our YouTube Channel 'DNP INDIA' now for all the news of the country and the world. You can also follow us on FACEBOOK, INSTAGRAM and TWITTER.
Source: www.dnpindiahindi.in
: Language Inputs
This post is sourced from newspapers, magazines and third-party websites. For more information please check NewsDay Express Disclaimer.