Highlights
The craze of cryptocurrencies is increasing all over the world including India.
Cryptocurrencies have given huge returns to investors this year
Most Popular Cryptocurrency Bitcoin Gives Nearly 70% Return
GALA outperforms everyone in returns this year
New Delhi
This year saw a lot of boom in the crypto market. There was an investment of $ 30 billion in digital tokens worldwide and their total market cap reached $3 trillion. In India too, crypto assets dominated this year. According to several reports, 15 million retail investors in the country have invested $6.6 billion in cryptocurrencies. Of these, 90 per cent of retail investors joined cryptocurrencies in the same year.
The craze of cryptocurrencies is increasing all over the world including India. The reason for this is that cryptocurrencies like Bitcoin have given huge returns to investors. Bitcoin, the world's largest, oldest and most popular cryptocurrency, has given nearly 70 percent returns this year. It was priced around $29,000 at the beginning of the year, which is now above $50,000. In early November, it had crossed $68,000.
Record performance of stock market, investors' wealth increased by Rs 72 lakh crore this year
51,000 percent return
Ethereum, the world's second largest cryptocurrency, has given a 448 percent return this year. At the beginning of the year, its price was $ 730, which has now reached above $ 4,000. Similarly, 1462 per cent in BNB, 650 per cent in ADA, 222 per cent in DOT, 9965 per cent in SOL, 250 per cent in ALGO, 14849 per cent in LUNA, 3251 per cent in AVAX and 12800 per cent in MATIC.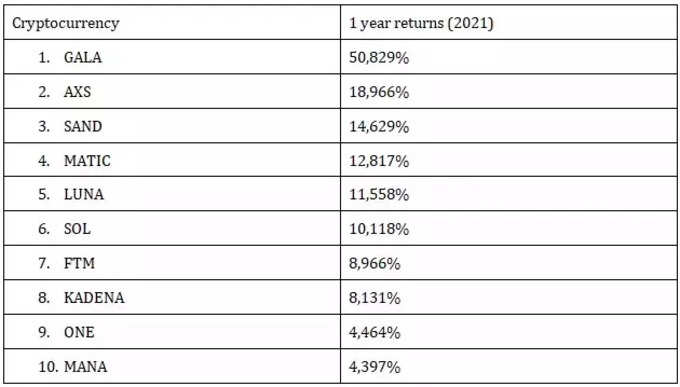 This member of the Sangh Parivar wants a complete ban on BitCoin, there is also news of relief for you, know which resolution was passed
But according to Mudrex data, GALA outperformed everyone in terms of returns this year. Its price has gone up 51,000 per cent this year. Similarly, Axie Infinity (AXS) has given 19,000 per cent return. The Sandbox (SAND) has given 15,000 per cent returns to its investors this year. Experts say that this year Mim Coins, Central Bank Digital Currency and Non-Fungible Tokens (NFT) remained in the trend.
.