Greater Noida.

The magic of India's biggest automobile show Auto Expo 2023 held at the Expo Center in Greater Noida has cast a spell over thousands and lakhs of people in Delhi-NCR and thousands of people are attending the event every day. In an effort to sensitize such visitors about road safety, The Society of Automobile Manufacturers (SIAM) in partnership with Rosmerta, the market leader in transportation solutions, during the Auto Expo (12 to 18 January 2023) Secure successful pavilion has been organized. This special event has been organized in view of National Road Safety Week (11-17 January 2023).
The Safe Travel Pavilion was inaugurated by Union Minister for Road Transport and Highways Nitin Gadkari. On the occasion of the inauguration, along with Vinod Agarwal, President of SIAM, many veterans of the automobile industry were present. During this, Nitin Gadkari highlighted the efforts of SIAM to increase awareness about road safety. This year, OEM giants such as Honda Motorcycle & Scooter India, Maruti Suzuki, Bajaj Auto Ltd., Honda Cars, Skoda Auto Volkswagen and Tata Motors have participated in the Auto Expo.

The Safe Travels Pavilion is a center of attraction for the general public and important information related to road safety is exchanged here. The visitors to the road safety pavilion were informed about the various benefits of road safety through simulators, competitions, demonstrations and photo booths. The pavilion displayed various aspects related to road safety including the importance of wearing helmets and seat belts and the Good Samaritan Law – in addition to first responders. The pavilion emphasized on eliminating counterfeit parts business through Asli-Nakli (Be genuine, Buy genuine) first approach, which creates a turnover of around Rs 25,000 crore.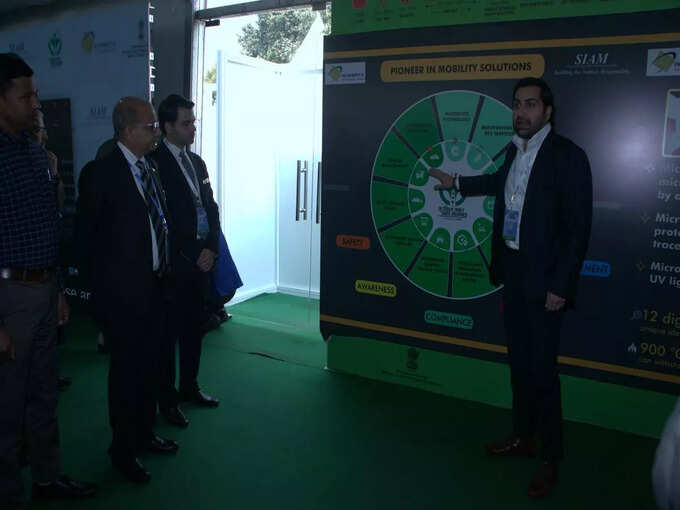 SIAM President Vinod Agarwal has said that SIAM and the Indian auto industry are committed to improving road safety in the country. A lot of work has been done on the engineering of the vehicles and now the Indian cars are at par with the world class standards. At present, there is a need to educate people so that the behavior of road users can be changed, which can play a major role in reducing accidents. Safe Travel Pavilion is one such initiative, which will play an important role in making the general public aware about road safety. Whereas, Karn Nagpal, President, Rozmarta Technology Limited, said that we at Rozmarta are proud to have been working towards making Indian roads safer for the last 20 years in line with the road safety initiative of the Ministry of Road Transport and Highways, Government of India.